You asked the questions... Dawn answered! Read her tips on all things vintage below.


1. What's the most versatile vintage piece for a capsule wardrobe?

  A leather jacket. You find them everywhere and they funk up casual jeans and also look great over dresses. I wear mine all the time, it's a total staple.

2. Any tips on getting a vintage bridesmaid dress? I'm 5'5 and pear shaped. Which shape would be best?

I'd look to the 50s. Something with a nipped in waist and full skirt. Try to find something with a decent neckline on it, maybe a sweetheart shape. I think there are always too many bare shoulders at weddings and that a nice neckline is way more stylish and looks better in the photos.

Shop 50s Dresses >

3. What's the difference between vintage and antique?

Its a date thing. Vintage starts in the 1920s, before that clothes are generally considered antique.

Shop 1920s >

4. Do you have any pointers for curvier girls wanting to go vintage?

Yes, dont get in a huff thinking there isnt anything out there. It may be harder to find but there is plenty. The 50s was all about the curves, so it's a great place to start. a defined waist and styles that excentuate the boobs and bum. This carried over into the early 60s too. If you dont want something so fitted then the 40s tea dresses are very easy to wear for day dresses, and the 60s is great for open waisted shift dresses. Then of course the 70s will offer you abundant maxi dresses that come in all shapes and sizes. But try to find ones without too much fabric, as they may make you look frumpy.

Shop large & extra large >

6. How old does something have to be before it is 'vintage' and no longer just 'dated'?

Technically its 30 years or older, but many vintage dealers and buyers (and me) include the 80s, because it's such a distinctive decade and fully deserves its position in the vintage world.

7. Do you think there will always be a demand for vintage? Or is it just a fad?

I think there always will be, because the clothes are not about current trends and therefore will never go out of fashion. Vintage is a way to create your own style and not follow the herd, what could get boring about that?

8. When did your passion for vintage begin?

Around 12 years ago, it was just by chance after I cycled past a vintage shop and this amazingly eclectic, mismatched, jumble of beautiful clothes caught my eye.

9. Why is shopping vintage so important?

I just think it's amazing to get the chance to wear clothes that have lived more of a life than I have! Also, high street shopping costs a fortune, you can end up spending all your money on clothes that don't suit you and that you don't really love whereas vintage is timeless.

10. Do you have a favourite era? (If so why?)

Ahhh, the Swinging Sixties. When I think of the 60s I am filled with such a deep, deep sadness that I wasn't there! I love the clothes from this era especially because it reflects how women were moving forward; they were becoming more independent, morale was high and the clothes represent that.

Shop 60s >

11. You spotted an incredible Courrèges dress whilst shopping in our Soho store. We're not jealous. Not one bit. Do you have any top tips for shopping vintage?

Avoid looking like you're in fancy dress by mixing statement pieces in with your contemporary wardrobe. That way you can really develop your own style. ?And be adventurous, You will find things that are utterly bonkers. Have fun with that. Dress down a crazy top with some jeans? You don't have to look wild, but you can make some big choices. be confident with it and you can get away with anything. ?  

12. What drew you to Beyond Retro?

With three London stores and one in Brighton it's a great place to rummage for some beautiful vintage pieces.

Beyond Retro Store Locator >

13. Who is your style icon?

?I dont really have one?. I look to images from photo shoots from the 50s and 60s for my inspiration. But I do love Tilda Swinton, and how she uses fashion like art. Her red carpet moments are the most exciting.

14. If you could only keep one item from your vintage wardrobe what would it be?

?My wedding dress. Its an icey blue gown that belonged to a Princes before it belonged to me. I will never part with it. I will also never be able to fit into it ever again!

Enjoyed Dawn's vintage tips then don't forget to check out her new book This Old Thing available to buy
HERE >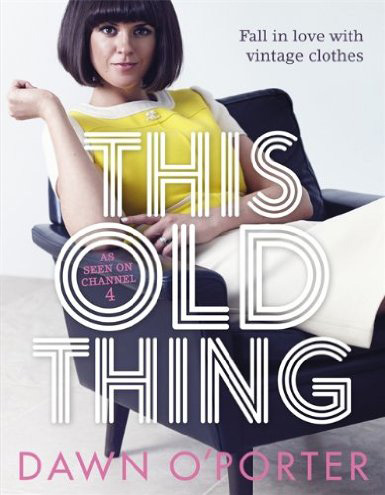 Don't forget to check out our selection of specially selected group of vintage products, that Dawn has given her seal of approval.
Shop Dawn's Vintage Picks >