Hi Beyond Retro Readers, We are Naomi & Amy from personal style and fashion blog
Two Shoes, One Pair!
Over at TSOP we are super excited for summer and the festival season ahead, we are all for bright prints, denim, lace and leather. We are big vintage fans with Beyond Retro being our favourite hangout on payday! Our blog is all about mixing the best of vintage and the high street. There was no surprise that when we got asked to do a summer edit of our favourite pieces that our list was endless! After a lot of narrowing it down we have composed our favourite 9 pieces that we think totally rock! You better be quick or else we will be snapping up these summers steals....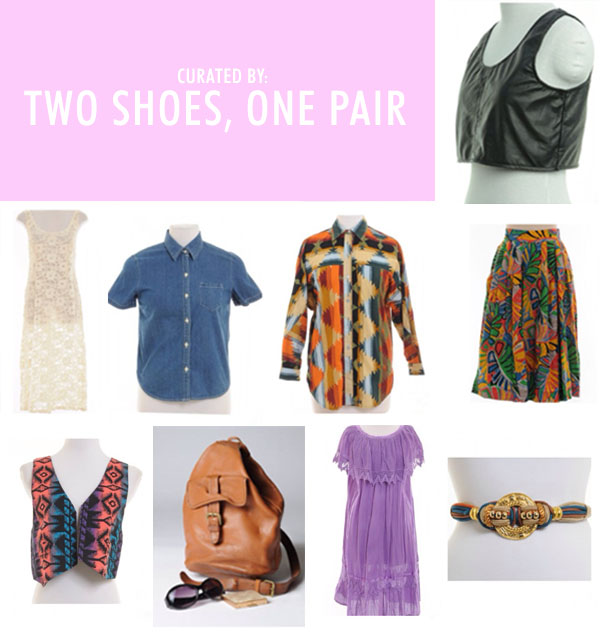 From top let to right:
Leather Crop Top
: Oh boy! We love this leather crop and think its a perfect way to keep that element of grunge over the summer season. Wear it with high waisted shorts, a printed midi or layered over a cute dress! This is one we will be packing for Bestival!
Lace Dress
: This dress is perfect for layering and would look great with a pair of denim shorts underneath with the sheerness of the lace over them. Also work it with a baggy tee over it, bumbag and denim jacket for a perfect festival look. Coachella eat your heart out.
Denim Shirt
: One of those items you just can't live without especially if your stuck with what to wear! Team it with a pattern skirt and leather jacket or wear it open over just about anything- its the perfect item for layering.
Aztec Shirt
: Since Naomi brought a shirt very similar a few months back, this is one we advise all of you to invest in! Wear it under your denim dungarees or over a cute little dress, the possibilities are endless! Over at TSOP we would rock it with a clashing Aztec bottom for a mega print mash up!
Printed Midi Skirt
: Ummm.. So how amazing would this look with the leather crop! We love printed midis for the summer because they are so easy to throw on with chunky boots and a bandeau or tee and be good to go! For a festival look wear a kimono or something with Tassles, rucksack and your favourite sunnies!
Aztec Waistcoat
: Things like this are great to wear over little dresses or over a jersey basic and denim short to add extra interest. The colours are really nice and the pattern is bold, don't be scared to clash it up with something printed underneath especially at festivals.
Tan Leather Rucksack
: We both carry our lives around in our rucksacks and wouldn't have it any other way! Vintage ones are always the best and look super boho for festivals. We are in love with this tan one which is perfect for summer to pack full of your essentials and be good to go.
Purple Floaty Dress
: Stunning colour and style, this would look perfect with a leather jacket, chunky boots and heap loads of ethnic jewellery! For another look wear it with a denim jacket and belt it up with a statement belt. Why not add In a floral headband if you're heading to a festival?
Statement Waist Belt
: This belt is super sexy and rare in the vintage world! Team it with anything you need clinching in at the waist whether It be a dress, shorts or midi skirt- this way you can do it in style. We hope you have enjoyed our summer edit for Beyond Retro! For more style notes visit us at 
www.twoshoesonepair.blogspot.co.uk
 or check us out on Twitter and
Instagram.com/twoshoesonepair
  Here's to 2013 the summer of style!