One day to go until our Company Shopping Night kicks off! Want to know what will be going down on our side of town? Here are the deets. 
Be there or be square!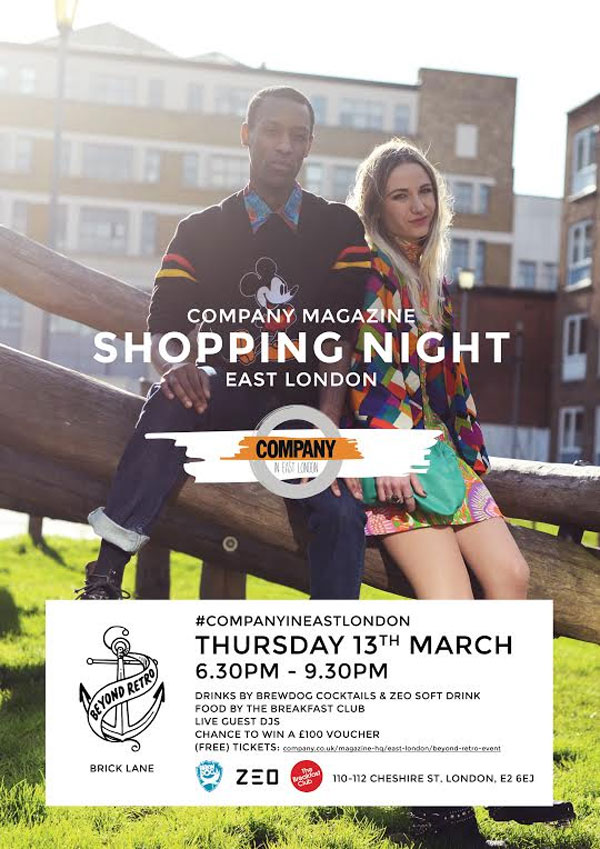 UnderDog Cocktail Bar:  Underdog is BrewDog's first foray into the world of cocktail bars. From the light, fruity and refreshing Dead Cobbler, to Espresso Martini's and Dead Pony-Groni's (you'll have to come along work that one out), BrewDogs are sending their UnderDog cocktail experts! Come and have a taste!
Zeo Soft Drinks: ZEO comes from the edge of Russia, bringing something rather new and extraordinary to the lightly effervescent world of soft drinks. You'll find suprising flavours that spark off each other to create something rather special: a soft drink with depth, intrigue and complexity. Russia doesn't dabble in quaint or half-hearted, that's for sure! ZEO is best served 'Russian style' 4 degrees. Chilled. No ice.
The Breakfast Club: These guys and gals will selling classic BC dishes and The Mayor of Scaredy Cat Town team will be shaking up some cracking cocktails between 6.30 and 9.30pm. Plus if you haven't had your fill since pancake day, they will be serving some flippin' (sorry we had to) yummy treats. Oooof, that's a whole lotta East London love right there.
Live Guest DJ: DJ & presenter Deanne Oliver-Evans aka Blonde Ambition is a party popper personified; bringing a carnival feel to every gig she plays and great news- her latest gig is with us! Firmly a part of the East London scene, Deanne has been spinning tunes for over 5 years, playing an eclectic mixture of her favourite disco & deep house whilst blending a clever mixture of all genres seamlessly. She's guaranteed to fill the dance/shop floor!
PLUS you can also expect goodie bags, Instagram compeitions for £100 in vouchers and styling from the lovely fashion team at Company mag!
Have you registered yet?! What are you waiting for? Oh yeh and did we mentioned that it is TOTALLY FREE?
Register HERE.