Before creating the world-renowned fashion empire Red or Dead, Wayne Hemingway and wife Gerardine started out in a small second-hand clothing store in Camden market. But it doesn't end there; these fellow upcylers have now delved into the world of interiors and urban design.
Holly Daffurn caught up with Wayne for chit-chat on vintage fashion, classic cars and Vintage By Sea.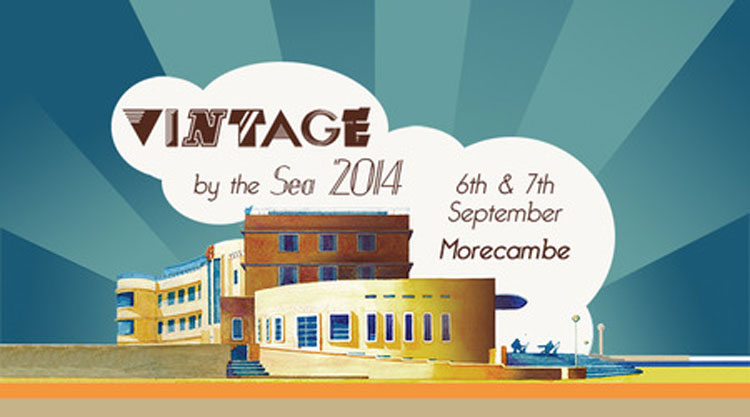 What instigated your move from Red or Dead to sustainable urban designs and interiors?
We'd been doing it a long time and fancied a change. The fashion industry is like a treadmill, it's very demanding when you have 4 young children. The stuff that we do now continues to follow the sustainable values of how we've both been brought up.
Is dressing a room anything like dressing a person?
The world of fashion is about something that can be temporary, with immediate attraction and change whereas in the world of interiors you design something timeless which will last. There are only so many things that can be timeless in fashion, you can do a lot more when it comes to buildings and interiors.
Talking of timeless fashion, I've heard whispers that vintage fashion is losing its high trend status. What's your opinion on this?
I'm quite happy when something isn't on trend. Real vintage is about timeless attire, it's about respecting things that have been designed so well that they will always look good.
Which vintage fashion designer do you most admire?
Most of the vintage that we've got as a family and in our collections are not designer labels. I've got a pretty big collection of 1960s Marks and Spencer's menswear and it looks fantastic. I've also got really good pieces from British Home Stores.
You used to be in a band and yourself and Gerardine met on the Northern Soul scene. Is music still a big part of your life?
I think design, creativity and fashion go together with music; its part of the creative industry. It would feel strange being at work without music and it would feel strange not going out and dancing to music.. even at our age. I've got a long-term love for black music, everything from 1950s-60s R & B through to Northern Soul, funk, disco and house. The festivals that we do and even the Classic Car Boot Sale have got a decent music element to it.
Let's talk Classic Car Boot Sale and Vintage By The Sea... 
Vintage By The Sea means quite a lot to me, it's in Morecambe, the town I was born in. From great night clubs to vintage bike rides, pooch parades, vintage aeroplane fly passes and markets, there's no shortage of things to do!
With the classic car boot sale, which is next to the Olympic stadium, we wanted to create something affordable. Classic cars are great eye candy, and we thought if we could combine it with great products, great food in and great music it could be really interesting. Thousands turn up to enjoy twenty-odd street food traders selling out of classic cars and DJs on top of buses. It's a cost-effective festival, we don't need much infrastructure and this ensures it only costs four pounds to get in!
Four quid, now that's a bargain festival! Your love of cars isn't just limited to classic cars. You've recently been involved with electric cars too?
We got the first Prius that came in the country in 2003 and now we're driving the Renault ZOE as well! I like the idea of plugging your car into a wire that comes out of the wall next to your front door. It feels good just doing that. It feels like the future.
And finally… what upcoming projects do you have which we should we keep our beady eyes peeled for? 
We've designed the new uniform for transport so all the tubes, the buses, the overlands and the riverboat. They'll start wearing it in 2015. Dreamland our project in Margate is a challenging but potentially very exciting project, that's on our website under urban design. The work that we are doing with Warwick University on an extension of their student housing. We've got a couple of social housing schemes that have been remodelled and brought up to date, one of them called Hillington Square in King's Lynn is making good progress now.
Wayne Hemingway is a GoUltraLow.com ambassador, demonstrating the benefits and cost savings of owning an ultra low emission vehicle like the Renault ZOE. @goultralow
Find our more about Wayne and Gerardine's latest products and projects - www.hemingwaydesign.co.uk
Don't miss Vintage By The Sea (6th-7th September) and The Classic Car Boot Sale (20th & 21st September)