Lights, camera, fashion! With highly stylised music videos for the likes of Beyonce under his belt, Director Frances Lawrence knew he had to pull out the big guns for the
Hunger Games
sequel, '
Catching Fire'
. And that he did. It cannot be ignored that the latest film, released TODAY! offers no shortage of sartorial splendor; credit to Trish Summerville, Costume extraordinaire.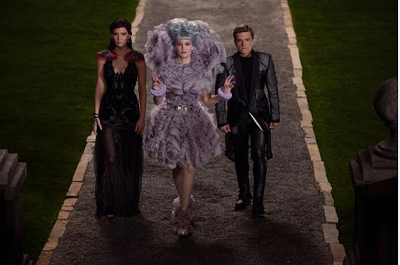 It's not the first time that film has inspired our dress, fashion has had on-going love affair with all things Hollywood. Think The Great Gatsby or Kiera Knightley's green number in Atonement, well 'Catching Fire' is no exception. Net-a-Porter has collaborated with Summerville to create a 19-piece collection inspired by Katniss and so too has CoverGirl which has developed a make-up range inspired by the films. Everything from cosmetics to jewellery is on offer to make The Hunger Games wearable and accessible to us mere mortals.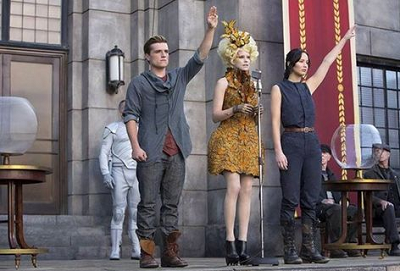 From the woman who styled
The Girl With the Dragon Tattoo
, this movie offers 146 minutes of fantasy couture including additions from avant-garde designers such as Tex Saverio and a touch of Burton for McQueen. The creative duo of Summerville and Lawrence considered the nature of capitalism and consumerism and, in doing so, created a fantasy fashion feature. In contrast the optimism and hope depicted in the vibrant clothing of movie number one, the latest entry kicks it up a notch and offers a sharp turn towards individuality and symbols of a destitute district. Take Katniss', Summerville trades in her rags for luxurious leathers to create a powerful yet elegant image. Her party dress, adorned with feathers and flames at the hem, is undoubtedly the dress for a true teenage warrior and evokes her ascent in the Capitol, coupled with her home in the impoverished District 12. Then there's Effie, who is dressed to the nines in a Sarah Burton for number. The uncomfortable nature of the character is reflected in her cinched waist, ensuring Trinket truly stayed on her toes and embraced the 'beauty is pain' mantra. Johanna represents the district Lumber which presented no mean feat for the designer who dressed her in cork fabric, brass nails and shredded chiffon to look like leaves. Anyway, we wont spoil the rest. Sit back, crack open a bag of popcorn, and prepare for a swoon-worthy fashion fest!