If you ever been to Essex, you may have stumbled onto a place called Loughton , where there is a English hunt wear trend going on... In fact this look is dotted all around Blighty and usually consists of pristine Hunter Wellingtons, untarnished Barbour's and riding breeches. This has been going on since the Sloane Ranger look of the 1980's, that embodied the young and affluent set of South Kensington and beyond. The country look has always been a go to for the fashion world but the vintage universe has its own great outdoor hero, an all American staple in the form of the buffalo plaid jacket.
Where buffalo plaid gets it right over the Anglo version is its ability to fit better into an urban landscape than going whole hog Horse & Hound. By adopting English shoot wear you are - in a way - latching onto a world that has a preconceived status and ideal whereas the US version holds no supposed ideal to it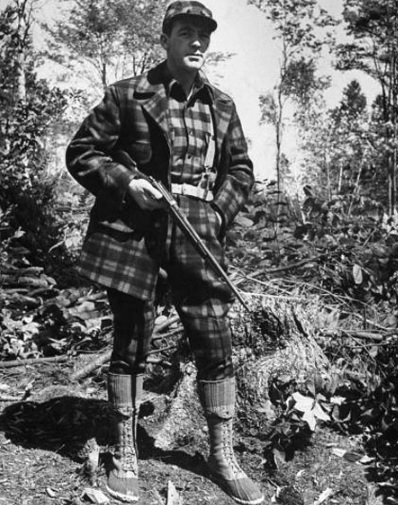 The back story to buffalo plaid is a good one and actually does has something to do with horned animals, thank God! Firstly, the plaid is in fact a tartan with its life starting in bonny Scotland and is one of the oldest (8th Century) and the family colours of the MacGregor clan! Yes, that's right Rob Roy MacGregor - he who battled Mel Gibson in the great Hollywood audience battle of the 90's. Apologies to all my Scottish companions.
Fast-forward to the late 1800's, Connecticut, USA - a burly Scot named Big Jock MacCluskey brought with him his ancestral clan tartan, The Rob Roy. Now old Jock was apparently a fearsome man to behold and one that left quite an impression with all he met including the local Sioux and Cheyenne Indians.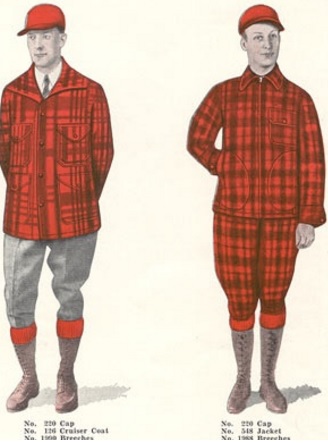 Early 1930's Buffalo Plaid Huntsman Suit
Now Big Jock first made his living as a Buffalo hunter, then realizing that bartering was a far more lucrative and less energetic form of capital gain he became an Indian trader. This profession had all but been deserted by the European settlers after the defeat of General Custer by the Sioux.
Jock though was sympathetic to the Indians cause and made comparisons with his own people's plight with the English aggression through conquest. This was a rare occurrence in this time of holocaust that made the Indians not only respect Jock but, again due to his fearsome stance, slightly weary of him.
Through this weary alliance the trading of buffalo pelts with various goods was the norm and on top of every brave's wish list was a heavy woven blanket from Scotland. That's right the tartan of Rob Roy!. So in awe of its vibrant red the Indians believed it contained the souls of MacCluskey's fallen enemies that he had slain, Jock would nod his head to this and say, "Aye". Such was the belief in this that when worn in battle it would protect the wearer from death.
To round off this little bit of historical fact, the tartan became known as buffalo pledger, pledger being the Gaelic word for blanket. Due to the mispronunciation of this curious word by both American natives and settlers alike, in time it became shortened to plaid. This is said to be why tartan in the US is called plaid.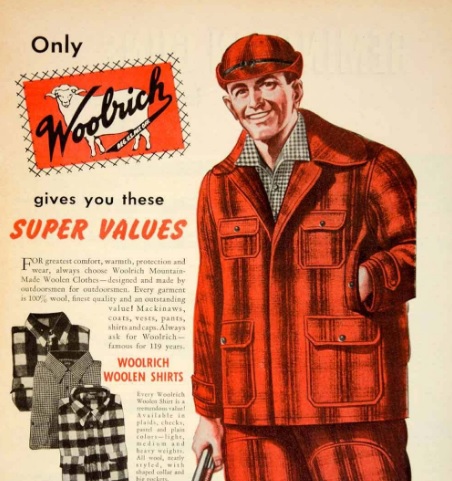 And there you go…more excitement than a John Wayne impersonator being mistaken for Clint Eastwood at Tesco's.
We always have a fantastic selection of vintage buffalo plaid from brands such as Woolrich, Filson and Pendleton - go have a hunt!
Words: Oliver Abbott