A Guide to 1970s Vintage Dresses
Always wanted to know more about this iconic era? Delve into the 70s with us and see how this decade's style STILL inspires us today, and how the power of the past can still influence our future. With graphics, florals, prairie, lurex and more, you'll be a pro at spotting a 70s dress in no time, and learn from all the original vintage style icons how to nail 70s style, and how to update the look for today. 

Dress Styles of the 1970s

- As the 60s gave way to a new decade, Emilio Pucci's graphic, floating florals in earthy tones captured the new mood. Floaty and full 'bell' sleeves took prominence.

- Victorian  and Edwardian influenced prairie dresses in sweet pastels dresses hung from under the bust to define the new 'Empire line' shape. Floaty and full 'bell' sleeves took centre stage.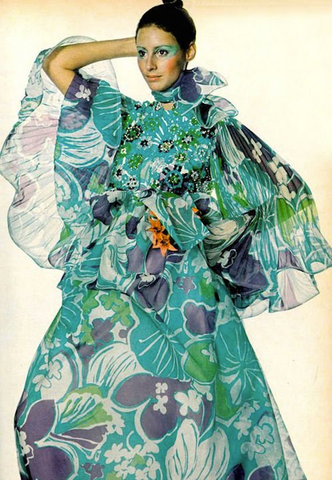 - Hems dropped to 'midi' calf and then 'maxi' ankle lengths.

- Ozzie Clarke and Celia Birtwell's designs exploded in limes, cobalts and oranges. Flattering bias cut floor length 1930s inspired shapes hugged each curve.

- The development of more affordable metallic, lurex fabrics perfectly ushered in a longer silhouette to dresses as the opulence and hedonism of disco drew the 70s to a close. 
70s Icons!
Nina Simone
A huge proponent of the black civil rights movement as the 70's dawned, both in her
music
and her life, Nina was a fearless style icon. Mixing the prints and shapes of the day with incredible native African headwear, she took black iconography to new heights.
Stevie Nicks
As Fleetwood Mac became one of the most popular bands in the world, Stevie's long hair and flighty dresses were a perfect match for the free flowing liberation she showed onstage. Still an incredible influence to many, her ability to seamlessly accessorise with top-hats and long scarves elevated her dresses to an ethereal plain.  
Jerry Hall
That party girl/actress/model Jerry Hall dated two of the biggest rock stars of the 70s is in no small part due to her incredible agility in harnessing her sultry statuesque figure in the most sensuous dresses of the day. Maxi lengths of the 70's were perfect for her endless legs and height.
Bianca Jagger
After her legendary entrance into Studio 54 on horseback, jet-setting Nicaraguan socialite and former actress Bianca was a true proponent of sizzling 70s fashion, equally at home in a floaty gown as she was in sequins. 
Diana Ross
Shrugging off The Supremes in 1970 Diana became a style icon in her own right throughout the decade. Draped in bias cut 30's inspired satins, dramatic maribou and sometimes even Elton John, her tall slender frame was perfect for the new shapes the decade brought. Her status as disco diva at the end of the decade brought her to a new audience.
How to wear 70s style now
- Pick out those wild psychedelic prints to match with trainers, heavy boots or even comfy, cute jellies for the beach!
- Let those winged, bell sleeves float with a pair of leg winding espadrilles, wedges or platforms. Great for bigger frames or set it off with a brown belt for nipped waists.
- Use the satin goodness of those 70s  dresses to elevate those newly permitted nights out to the pub! Dance your night away like Diana!
- Pair those fab 70s dresses with a velvet jacket or faux fur suede for those cooler autumn days.

Want to learn more about iconic vintage dresses? Check out Our Guide to 60s dresses and Our Guide to 50s dresses here!