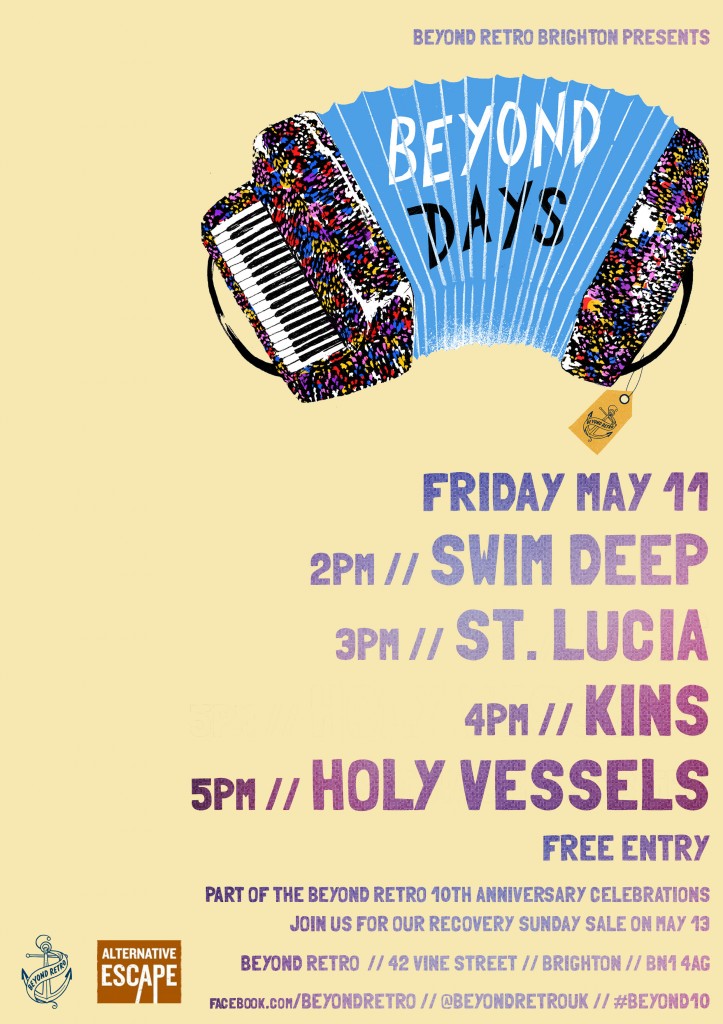 Ladies and gentlemen, we are very pleased to be able to announce full details for our Beyond Days Blowout, a seaside musical extravaganza and the event that kicks off a week of celebrations for our 10th Anniversary. Performing live at our
Brighton store
as part of the Alternative Escape tomorrow are four of the bands we are most excited about right now, all playing
free
for your aural pleasure:
Swim Deep // 2PM
After bonding over a shared love of Skateboarding, Nirvana and Warpaint, Austin Williams (20) Tom Higgins (21) and Zachary Robinson (20) began making music, playing shows and making a name for themselves with fellow Birmingham bands Peace and Troumaca. 
Swim Deep
songs seem to be solely concerned with beaches, girls and not wanting to be wherever you happen to be (not necessarily in that order).  Most of the band's tracks are named after parts of California (somewhere the band have never been) whilst their sound is a weird but alluring amalgam of Surf rock, Grunge and Balearic pop.
http://www.youtube.com/watch?v=ATxs0N_DFTw
St. Lucia // 3PM
St. Lucia
is what happens when the long and bleak winters of New York recede and summer emerges; giving birth to memories of childhood holidays, faded photos of exotic places and the dream of recapturing this. Inspired by his homeland of South Africa, his journey through the UK and relocation to Brooklyn, St Lucia is ultimately a wall of atmospherics crafted with an inordinate amount of time-consuming precision.
http://www.youtube.com/watch?v=mPfbifTvFtY
Kins // 4PM
KINS
are Thomas Savage, Queline Smith, Alex Knight & Dan Mould. Their sound lies somewhere between Radiohead and Fever Ray with Television-esque guitar. They formed in mid 2010 and began playing shows around Australia and receiving high rotation for single 'Mockasin's'. In May 2011 they released their first E.P. 'Dancing Back And Forth, Covered In Whipped Cream' to critical acclaim. After many a sold out headline show, they set off for the UK. Now based in Brighton, they are about to bring 'Dancing Back And Forth, Covered In Whipped Cream' to the UK and Europe. http://www.youtube.com/watch?v=LKQ8Q4TtoGQ
Holy Vessels // 5PM
Holy Vessels
tell anecdotes rather than stories, of smoke-swept fields a far-cry from their contemporaries' neon clubs. They are a five-piece from Brighton that play summertime rolling beats and breaks, twirling guitars and blues rhythms. It's music that stops in the street to look around. Thus far Holy Vessels have supported bands such as Boy & Bear, Cloud Control and The Maccabees, and appeared at Glastonbury, The Big Chill and Lounge On The Farm festivals. Seeing them live, in colour, audiences hear them unfold melody and lyric upon their tumbling break and rhythm; they are a band of roots rock & roll specialists, escaping upstream with the hearts and minds of all lovers of romantic popular song. http://www.youtube.com/watch?v=sI8QVaCo0RU While we'd love each and every one of you to come and party with us, we're a vintage clothing store, not the Pyramid Stage and space is limited, so get there early to avoid disappointment!
Beyond Retro | Brighton
will also hold a special "
Recovery Sunday Sale" on Sunday 13th May
. With 
50% off selected items
and special treats in-store, this is the only place to cure aching heads following a big weekend in Brighton. It's freeeee and open to the public from 12-6PM. See you at the weekend!