Best Halloween Fancy Dress Ideas 2019
2019 internet has been truly WILD from start to finish. No one could have possibly predicted the amount of ludicrous posts that filled our screens, but of course we're here for it and in a year of uncertainty and scary happenings all over the globe we welcome the distraction tbh.
If you love dressing up but don't love the idea of throwaway, plastic costumes that will just end up in landfill (and also cost you hella money) then fear not, we've got inspo for costumes you can make using clothes you already own or will at least wear again. As Halloween arrives it's time to start planning our costumes and this year we're looking to our favourite memes of the year to provide us with inspiratio. Find out who are the true meme lords your friend group with these iconic outfits.
10 Viral Meme Halloween Costume Ideas 2019
1. And I Oop
Has anyone managed to have a single conversation without using this iconic phrase this year? What started off as an ironic quote of the viral video clip quickly became one of this years biggest phrases. Applicable to almost any situation, we're naming 'And I oop..' as the catchphrase of 2019. Recreate Jasmine Masters' glam look with a vintage kimono and some MASSIVE earrings; if you have a dedicated friend you could also get them to strap a wicker screen to themselves and follow you around all night.
Silver Diamante Teardrop Earrings
2. Ah Sh*t Here We Go Again
One of the simplest Halloween costumes you could possibly create, the viral clip from GTA San Andreas did the rounds this year as everyone on twitter mocked their habits. For this elaborate costume you need to grab a white tank top and.... yep that's it! Then every time you head to the bar to grab yourself a drink you say the magic phrase, everyone laughs and you are forever remembered as the champion of Halloween.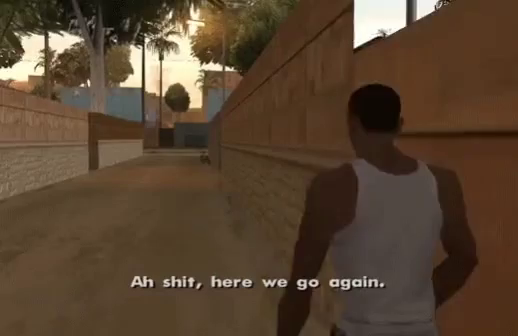 3. 30-50 Feral Hogs
When the internet was first created, I'm sure the inventors had visions of ideas being shared, people being connected and immense databases of knowledge being built globally; what I'm sure they did not envision is millions of people losing their absolute minds over a phrase as simple as '30-50 feral hogs'. What started as a conversation about gun control in America quickly descended, as all conversation on the internet do, into absolute madness. This costume is a little more involved but with just a pink t-shirt and 30-50 images of pigs cut out and stuck to your top you will have a costume worthy of all the costume awards.
4. Ashley O
An iconic pop figure for 2019, Ashley O was the centre of one of the dystopian (but not altogether unbelievable) storylines of a Black Mirrors feature-length episode. Her song 'I'm On A Roll' quickly became an ear-worm that nobody could shake and we all wanted to cut our hair into a bob and dye it purple. A simple but a very effective costume, grab yourself a sparkly dress and lilac wig and prepare a dance routine to impress all your friends with.
5. Area 51 Alien
Sometimes a meme goes so viral that the United States Air Force has to release an official statement on it. Over 3.5 MILLION people clicked 'attending' on the joke Facebook event and forced the US Air Force told the BBC that "any attempt to illegally access military installations or training areas is dangerous" and event creator Matty Roberts said he had a visit from the FBI. This costume works perfectly as a group, make matching alien masks for a quick DIY costume with maximum comedy impact.
6. Jeff Goldblum
An unproblematic king, this year Jeff Goldblum was crowned Daddy Of The Internet, as multiple videos of him went viral. All of the clips were frankly the most wholesome things we've ever seen but a particular video of him dancing on a roof in New Orleans is everything we love about him summed up. The dance moves. The shirt. THOSE PANTS. It is a visual delight and we cannot express how much we love him. A super simple costume, get out your jazziest trousers, your loudest print shirt and a pair of chunky black glasses, perfection. 
7. 80s Eleven
At Beyond Retro we're all massive Stranger Things fans, so when the new season was released we were all racing to finish it whilst avoiding spoilers. One of the greatest bits of the latest season is El's mall trip and 80s makeover, who doesn't love a cheesy changing room montage, her new look representing her newfound friendship and identity. Besides ALL the other Stranger Things inspired costumes that you could do, (we made a whole guide about that here) 80s El is a super easy one to create. A brightly coloured romper suit and an ice cream means you can bring summery vibes into October. 
8. VSCO Girl
The latest is Millenial developments, the VSCO girl is the hot, new trend sweeping the internet. If you're over the age of 30 it's likely you have NO idea what this means so check out the handy guide below. Essentially all you'll need for this costume is an oversized t-shirt, as many scrunchies as you can fit on your arm and a big rucksack. 
9. Nancy Pelosi Slow Clapping
Instantly the sassy response meme of the year, Nancy Pelosi's seemingly sarcastic clap for Trump was a viral sensation and a BIG look to copy for Halloween. In her off-white suit and her arms outstretched she became the picture we all send when feeling petty. Invest in a power suit and perfect your 'are you sure sweetie' expression to complete this stylish costume.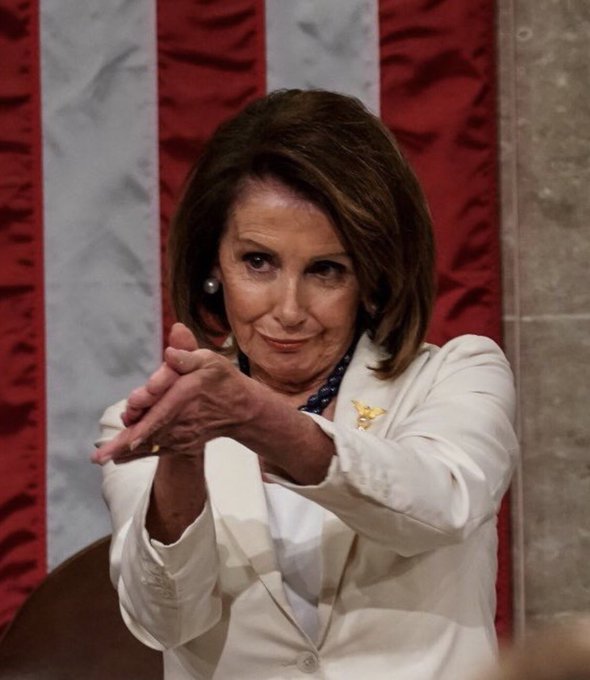 10. Scary Sorority Girls
Alpha Delta Pi sounds like any made up sorority from any teen flick but they are real and they are TERRIFYING. This viral clip did the rounds on twitter earlier this year because it is straight up scary to any reasonable, non-sorority people. Keep Halloween traditionally spooky as donning pink shorts and a mint green tee and chanting at anyone who comes near you. *shudders*
Hopefully you're feeling sufficiently inspired and ready to MURDER your Halloween look this season. Check out our edit of Halloween-suitable basics that work great as the base for any lazy costume or shop our themed edits below for ready-made costumes.
Shop Western Edit | Shop Stranger Things Costumes | Shop Animal Print | Shop American Sports