The sun has been out and our Visual Merchandising team have been embracing the summer with our totally tropical theme. Bringing the beach to the city (or in Brighton's case, the beach to the... uhem... beach) Escape the temperamental weather outside and immerse yourself in a world which screams Aloha.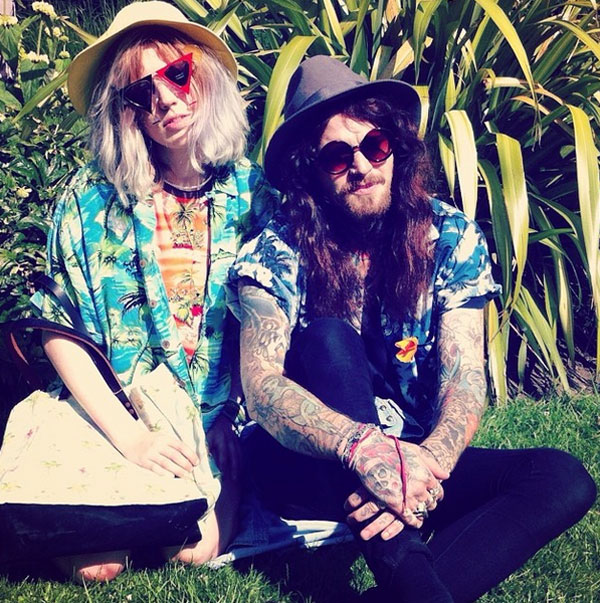 You may have seen our fantastic collection of label cropped Hawaiian shirts cut off patch shorts and tote bags in store and for us this really was the starting point of inspiration. Add into the mix a hint of Fear and Loathing and a touch of Raising Arizona and we have ended up with this kitsch mix of holiday Americana.
Shop Label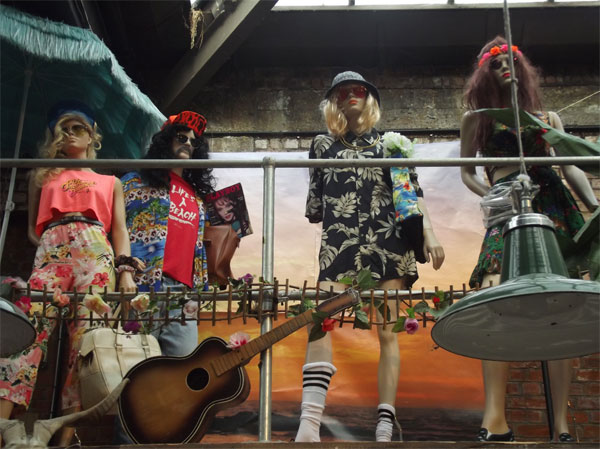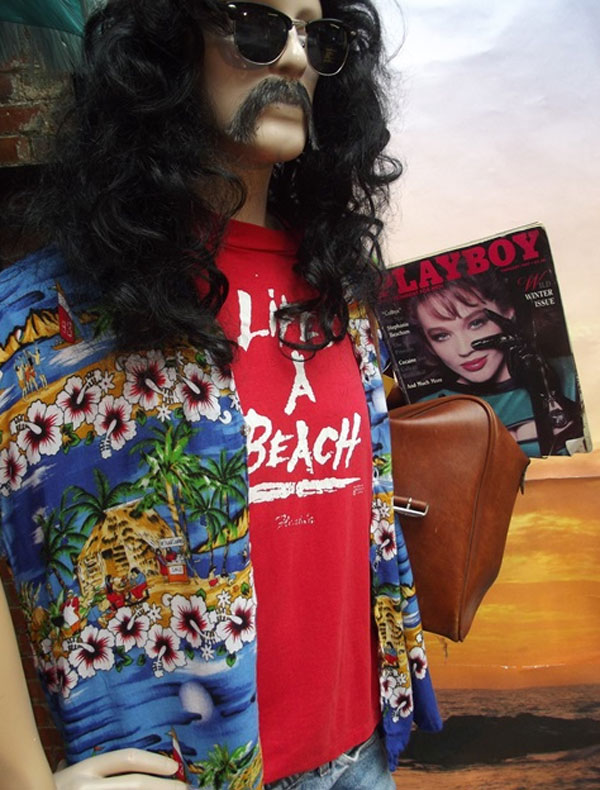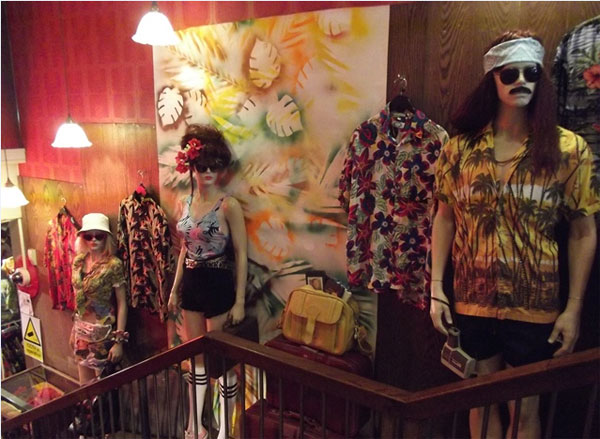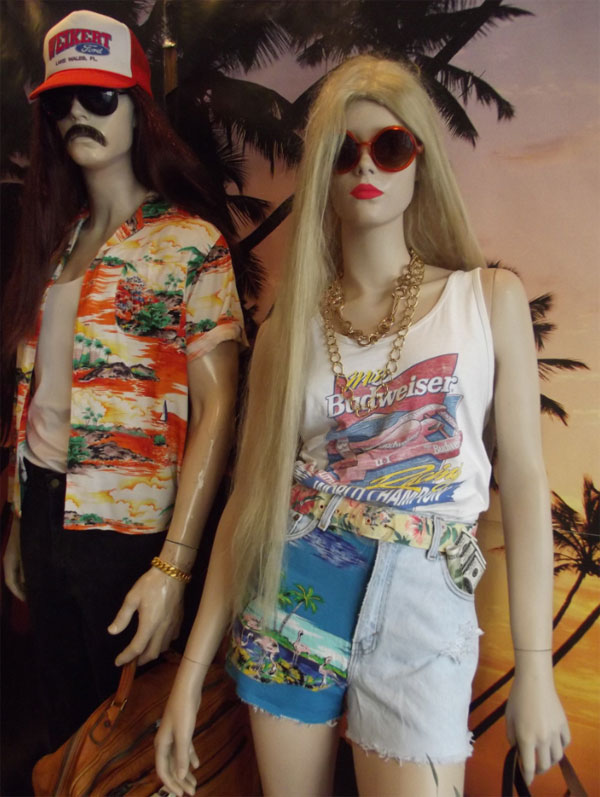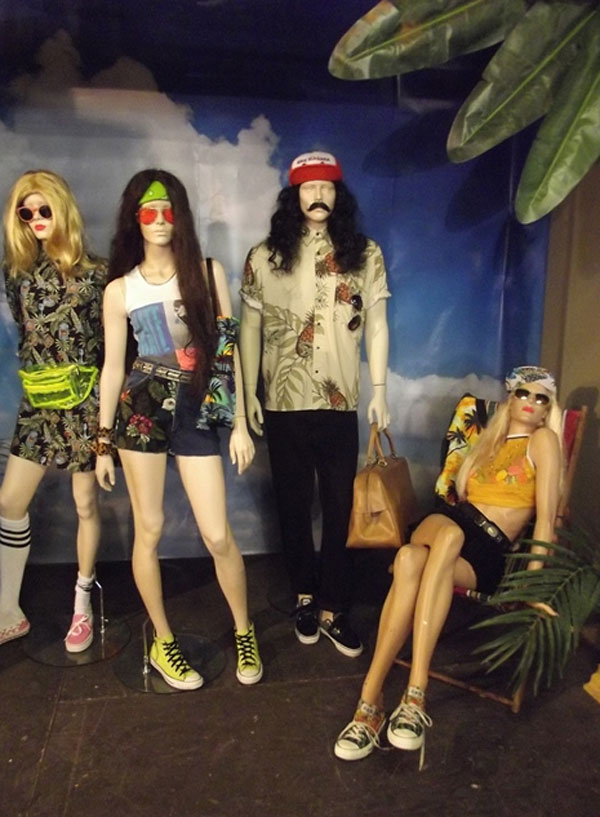 Did you know...? 
- At the turn of the last century Hawaii was an American protectorate, and attracted immigrants from Japan, Philippines and The United States. All of these communities contributed to the evolution of the Hawaiian shirt.
- Kimono cloth came from Japan, the relaxed and cool-wearing Barong Tagalog (an untucked shirt) came from the Philippines and bright formal colored garments and silk came from China.
- The traditional collared shirt style came from the USA, and native Hawaiians provided their own traditional geometric block patterns, first seen on the Kapa Malo (loin cloth) and Kapa Pa'u (similar to a sarong).
- Many have attributed the invention of the Aloha Shirt to Ellery Chun, owner of a Dry Goods store in Honolulu who sold the tropical print fashions in the 1930s.
- In truth, what we now know as the "Hawaiian Shirt" had already been in circulation for numerous years, although Mr. Chun had a major role in the Hawaiian Shirt's proliferation.
- In the mid 1930's, a business named "Musa-Shiya the Shirt Maker" was also making shirts from Japanese Kimono fabric. Musa-Shiya the Shirt Maker eventually evolved into "Musashiya", a fabric store that is still in business today at Honolulu's Ala Moana Shopping Center. The business advertised its "Aloha" shirts with a starting price of 95 cents.
- During the 1950's, the Hawaiian Shirt had blazed into prominence. In August 1959 Hawaii became the 50th State of the U.S.A., bringing the new Aloha State even more attention, and most significantly, even more tourists!
Give your wardrobe some Hawaiian punch: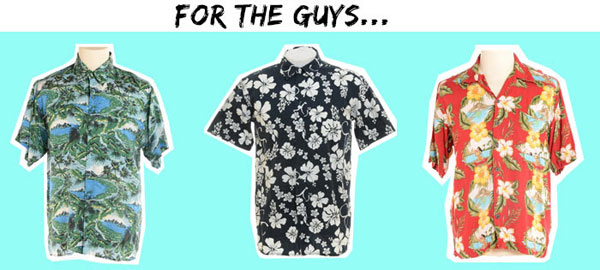 Shop Men's Hawaiian Shirts- HERE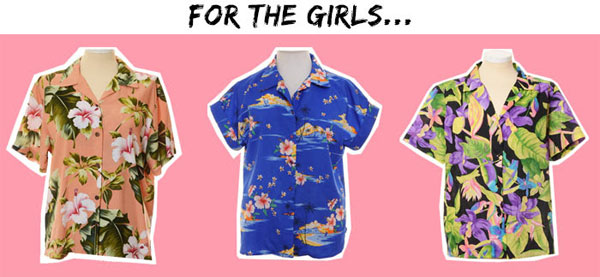 Shop Women's Hawaiian Shirts- HERE