It's impossible to come to London and not explore the streets of Soho. Bleeding with history, this central point is where it all happens. From swinging Carnaby Street to the dark and seedy Old Compton Street, Soho is buzzing. Venture south from the manic Oxford Street and take in all that Soho has to offer. With so much going on and so many places to see, our Beyond Retro guys have listed their favourite places you should visit without traipsing through tourist guides and getting well and truly lost. Oh, don't thank us... It's our pleasure!
EAT: Meat Liquor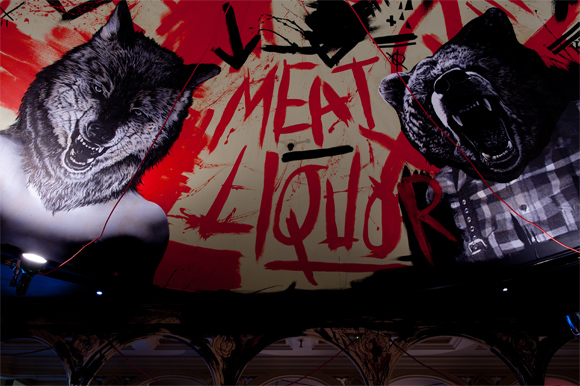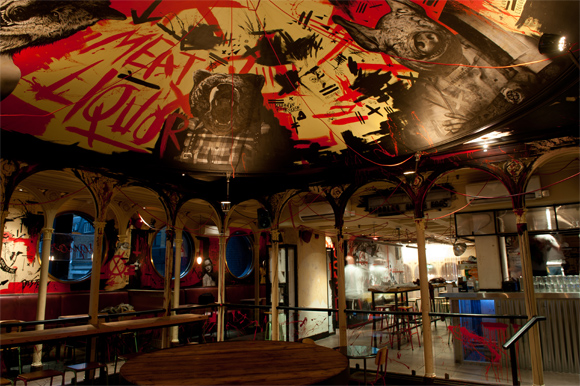 Although the burger is an American dish, us Brits have welcomed so fanatically that it creates phenomenons... Particularly when you look at the triumph that is Meat Liquor restaurant and bar, which began as a humble South East London burger van. Venture into the smarter part of town of Mayfair and you'll stumble onto perhaps the dingiest of diners in central London. Although completely out of place, don't let that put you off. You just need to look at all the hype to know this is something special... This no-booking's restaurant means it can get VERY busy, so make sure you show up at a decent time or be prepared to wait over an hour for a table. Bear in mind though, the cocktails are scrumptious if you are prepared to wait! Now, to the food. With some of the thickest slabs of meat we've ever seen, sandwiched between the sweetest of burger buns, the kitchen team sprinkle generous helpings of pickles, chili, bacon or whatever you desire. Grab a selection of sides with chilli fries (garnished with the spiciest chili con carne), the tangiest of coleslaw and onion rings the size of your face. So loosen your waistband and head on down to Meat Liquor.
Meat Liquor, 74 Welbeck Street, W1G 0BA | Transport: Bond Street tube
SEE: Prince Charles Cinema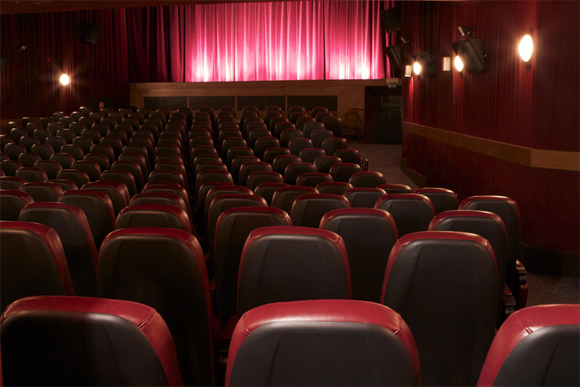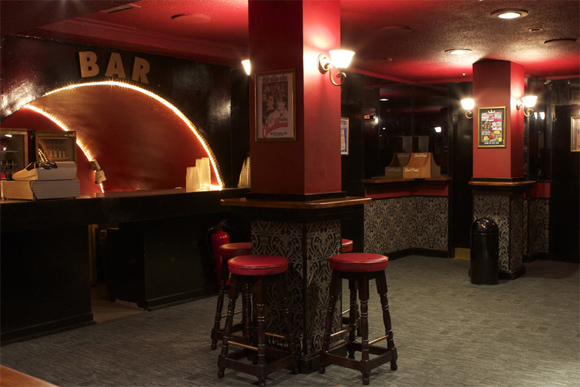 Forget overpriced cinemas across the capital, forget screaming children, sticky floors and extortionately priced pix n' mix. If you're a movie lover, you'd be mad to miss the Prince Charles Cinema. This independent movie theatre prides itself in being not only the cheapest, but one of the the best cinemas in the capital. Showing both new releases and indie classics, you can guarantee there'll be something on you'll love with none of that mainstream drivel. We're beside ourselves with excitement with their "Sing-a-long-a-Grease" special, which is a fully interactive show that will get you singing and dancing in the aisles to this musical classic featuring the lyrics to all of the best songs and quotes, as well fancy-dress and goody bags. A hickie from Kenickie? We're there...
Prince Charles Cinema
, 7 Leicester Place, London, WC2H 7BP | Transport: Leicester Square
SHOP: Liberty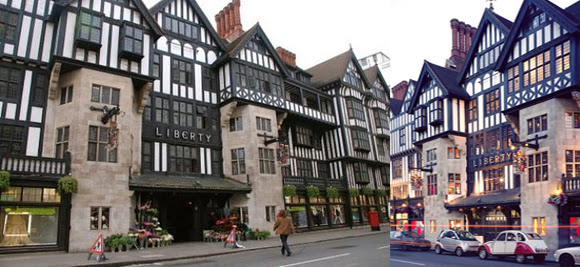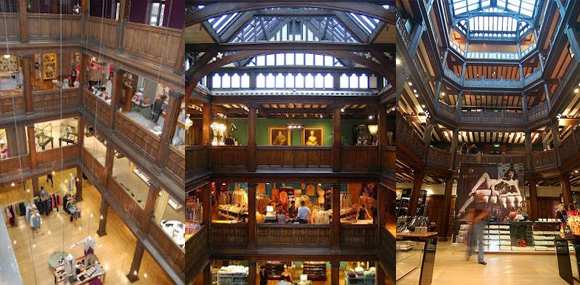 This is where we go for all our style inspiration. Liberty is a long-established department store that has been embedded in London's culture for well-over a century. This is the ultimate go-to place for the fashion pack, where you'll find the world's most prestigious magazine editors fighting over the same liberty print silk scarf as Lady Gaga. Although most of us mere mortals can only dream of purchasing an exquisite piece of luxury, they also have of an amazing beauty and gift department tempting enough to buy a little present for yourself (or 12). Liberty is known for celebrating the best in cutting-edge fashion, so expect designs straight off the Fashion Week runways. The building itself is absolutely divine too, with traditional Tudor décor and one of the most incredible light wells in architectural history that forms the centre of the building. Don't forget to check out their window displays for some of the most fun and extravagant in London (apart from Beyond Retro's of course!)
Liberty, Regent Street, W1B 5AH | Transport: Oxford Circus (tube)
DRINK: Lucky Pig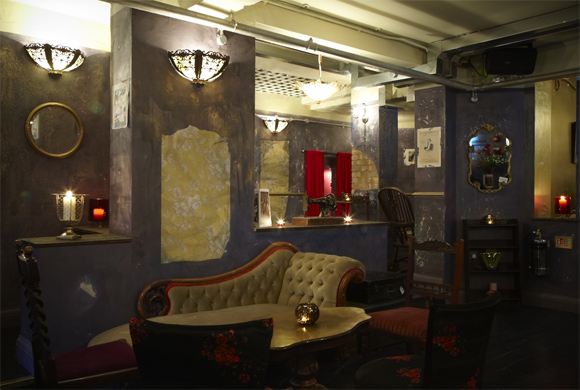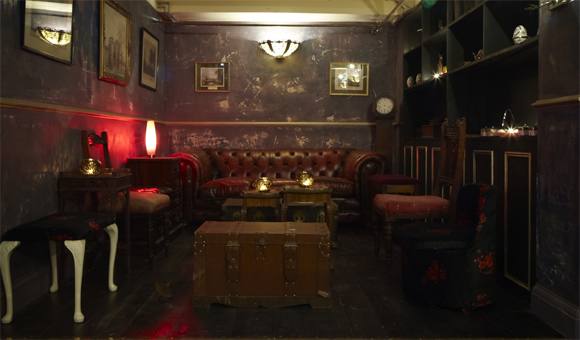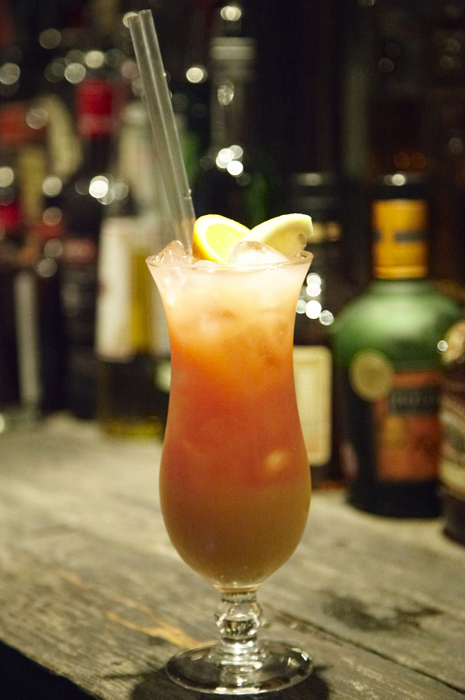 It's true. The best hidden treasures in central London are underground. Just take Beyond Retro Soho for example! Our new favourite watering hole is the hidden speak-easy style cocktail bar in Fitzrovia; The Lucky Pig. As soon as you walk in you'll see why we love it... With a gloriously vintage feel with their dilapidated, peeling wallpaper and a mothball-y sort of smell as you enter through the basement door. Beaten up furniture is scattered throughout the place, with the odd Singer sewing machines dotted under old-school Parisian posters. This is the kind of place you imagine all sorts of naughtiness occurring, as customers crowd together in alcoves covered by luxurious velvet curtains. Our visit was a more prudish affair as we enjoyed mango cocktails at the well-lit bar whilst being wowed by the impressive skills of the bar staff. It's not the cheapest of joints, but it's definitely worth a visit. Be sure to try the Lucky Blazer cocktail for a surprisingly warm concoction of berries and citrus. Or the bitterly delicious Valencia martini. Hiccup!
Lucky Pig
, 5 Clipstone St, W1W 6BB | Transport: Great Portland Street or Regent's Park (tube)
CHILL: Maison Bertaux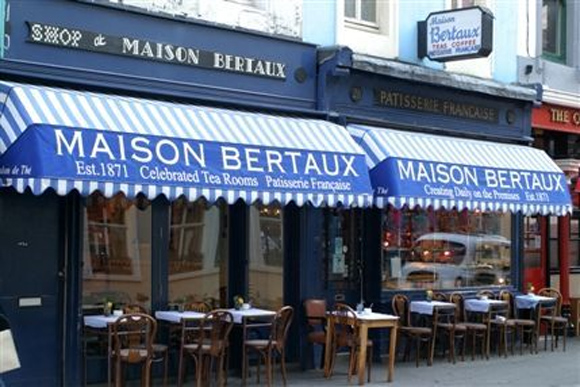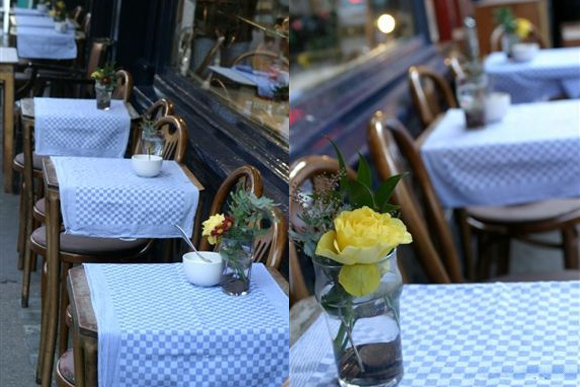 This charming little patisserie is located just down the road from our Soho store. Delightfully Parisian, this destination opened in 1871 making it the oldest patisserie in town. The menu boasts an eclectic mix of classically French sweet delights that will get your mouths watering. From éclairs to millefeulles, the cakes and pastries look almost too pretty to eat. Sit outside and enjoy watching the world go by accompanied with a frangipane and a chocolat chaud. If you struggle to find a seat at the front, head upstairs and enjoy the art gallery, which exhibits some of the maddest pieces from London's most unlikely artists. Currently showing is comedian Noel Fielding's weird and wonderful psychedelic paintings.
Maison Bertaux
, 28 Greek Street W1D 5DQ | Transport: Leicester Square, Piccadilly Circus or Tottenham Court Road (tube)