Our fail safe festival footwear of choice has become a staple of recent weeks (or months, should we say). Whilst spring may have sprung over the past few days, it's not set to last, and what with Hunter's new 'Another Wet Summer' campaign, we are all reaching for our wellingtons to go for a splash. What would we do without them ay?
The wellie became popular in the 1800's following The Duke of Wellington asking his shoemaker  to modify the Hessian boot. Rubber was introduced in 1852 by Hiram Hutchinson, a friend of Charles Goodyear the inventor the 'Vulcan Inaction' process of natural rubber. So, Hutchinson moved to France, making the the first Wellie called the Eagle. It was an instant commercial success and by the first World War, Over 1.8 million pairs were made by the Hunter boot company.
Nowadays wellies, in particular the Hunter brand, have made their way into main stream fashion. Back in 2005, Kate Moss sparked an enormous entourage of wellie devotees after being snapped at Glastonbury in her festival chic muddy rubbers.
Always one to determine what's hot and what's not, Kate's choice of footwear put the wellie firmly on the fashion map. The rise in the popularity of festivals and of course a demand to emulate Kate's style resulted in the boot adopting a high fashion status. In 2009 Hunter collaborated with iconic shoe brand Jimmy Choo. Using the label's signature crocodile print as well as luscious leopard lining, the design coined practicality with luxury and established an elite wellie aesthetic.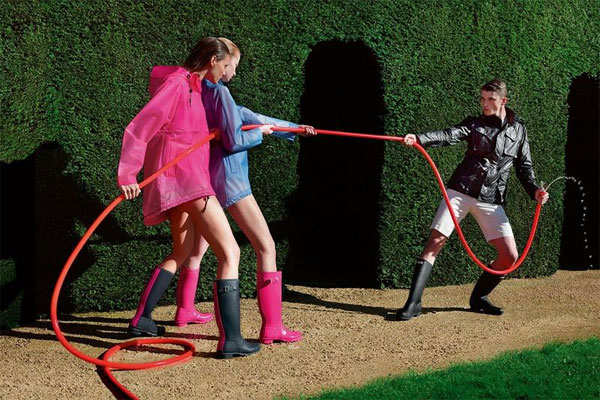 Willis for Hunter SS 14
Following the Jimmy Choo/Hunter hit, in February 2013 Stella Mccartney's hubby, Alasdhair  Willis, was named creative director of the Hunter brand, and it was only a couple of weeks ago at London Fashion Week that we witnessed his first collection for the brand. Not wanting to forget the woman who turned Hunter into a household name, Willis even included a heeled wellington boot that was inspired by Ms Moss herself.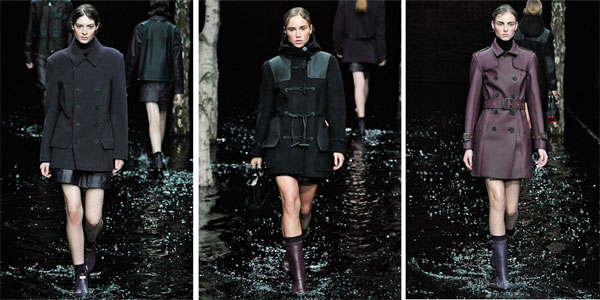 Hunter AW 14
London A/W 14 saw the models stomp down the runway in 2 inches of water to emulate the present state of many British streets. However Willis was at pains to avoid making links to rainy days and  aimed to bring a youthful humour to the designs with details such as the "moustache" on the toe of the boot. The creative director also stated that the collection was inspired by  extreme explorations, namely deep sea diving and outer space.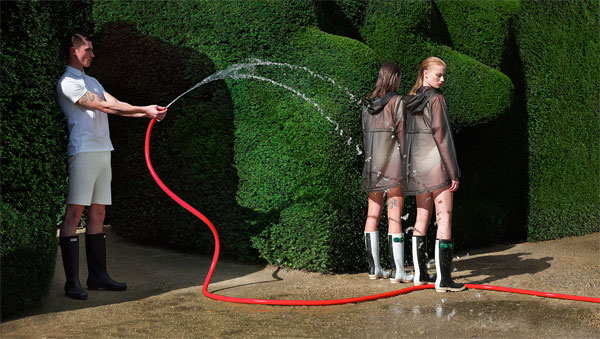 For those of us that want to stay firmly on the land of planet earth, there are plenty of other wellie designs that allow style even during torrential downpours. Modern wellie designs such as the rubber ankle boot offer a fashionable practicality aimed at those city dwellers that want to keep their socks dry but maintain some fun in their winter wardrobe. And for us retro fashion lovers, there are even wellies that do a twist on the Victorian style button up ladies boot!
Pop in store for a selection of retro wet weather wears!