Ladies and gents, it's time to prep for those long summer nights, obligatory 
barbecues,
 weekend-long festivals and perhaps even the odd drunken picnic with what is now a summer-style staple; the humble t-shirt. So start stocking-up because let's face it; cropped, fringed, beaded, ripped, logoed, tie-dyed or emblazoned with your favourite band it's hard to make an enormous fashion faux pas (okay, it's not impossible) with a simple t-shirt. Check out some of the 
vintage band t-shirts
 that we've just added online.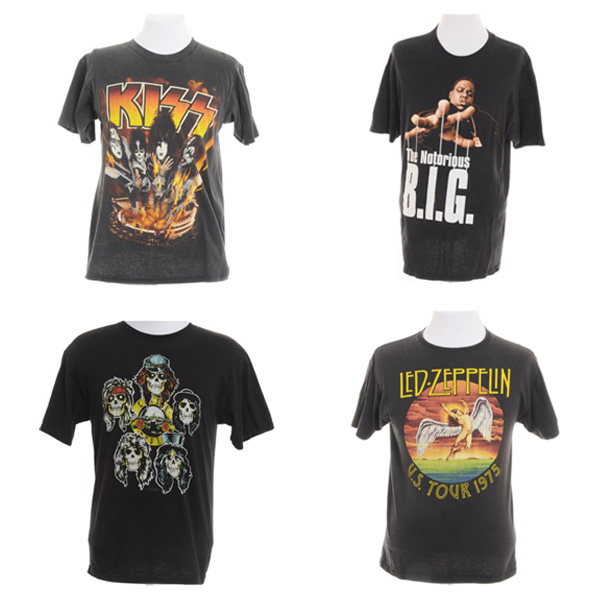 Beyond Retro vintage band t-shirts (available online)
In the past, the t-shirt has been used as a vehicle for publicising social and political unrest, as a new method of advertising, band promotion and the more recent phenomena of the celebrity slogan t-shirt ("no photos please!"- Millie Mackintosh) ("Naomi hit me" – Naomi Campbell) ("I'm the American Dream" – Britney) – believe us it gets weirder and weirder… So, what is the humble history of the t-shirt? Well, up until the 1950's the t-shirt was still viewed as an undergarment until Hollywood heartthrobs such as Marlon Brando and James Dean began to sport this newer laid back look. Dean's crisp white t-shirt in 'Rebel without a Cause' epitomized the rebellious, cool culture that was gripping America's youth. This simple garment quickly became a popular fashion garment.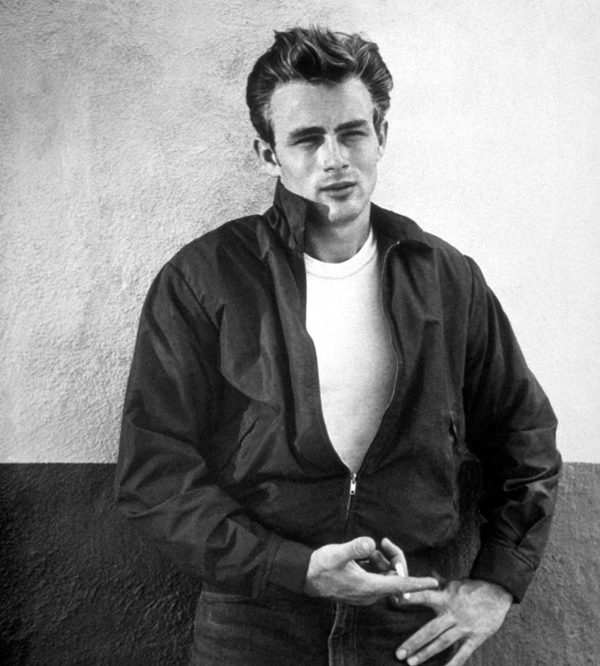 James Dean in the 1950's
However it wasn't until the '60s that the t-shirt really came into its own as a garment for rebellion. The t-shirt was used to voice outcry and protest with peace slogans and images of the rebel heroes of the decade. The invention of screen printing made this truly possible. The now famous portrait of Ernesto "Che" Guevara taken by Alberto "Korda" Diaz was extremely popular was recreated and reprinted repeatedly through the '60s. It is said to be the most reproduced image in the history of photography, mainly thanks to the rise of the T-shirt. The commercial success of the t-shirt was also in part to advances in printing and dying which allowed for more variety and the Tank Top, Muscle Shirt, Scoop Neck, V-Neck, and many other variations of the T-Shirt came in to fashion. During the '60s and '70s, it was also music that capitalised on the popularity of the t-shirt. Rock bands began selling them at concerts with images and slogans and merchandising soon became a big money spinner.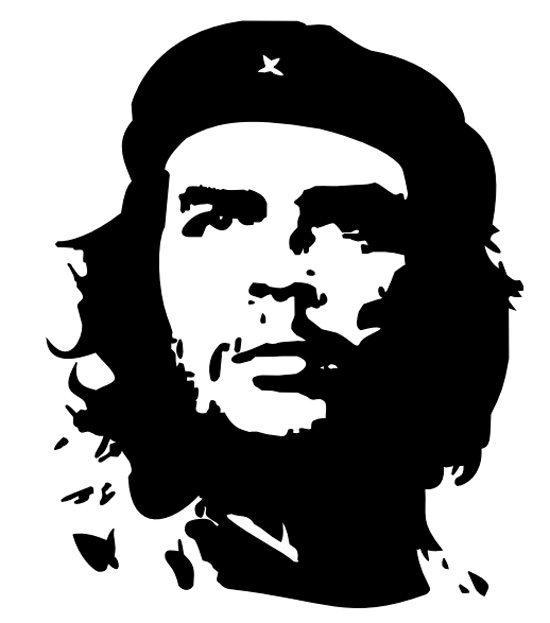 The iconic screen print image of Ernesto "Che" Guevara
Vivienne Westwood opened her boutique "SEX" on the King's Road in 1975, selling her Punk-style tees, including the infamous "God Save The Queen" design. In the 1980's slogan t-shirts were on the rise again with bands promoting their albums with fun catchphrases. "Choose Life" was used to promote "Wham's" debut album, whilst "Frankie Says" helped push a string of highly controversial singles to the top of the UK charts for the band "Frankie Goes to Hollywood". In fact everyone wanted a piece of the action, from football teams to advertising agencies anyone wishing to promote their company or organisation commissioned and sold t-shirts as a cheap method of promotion. Throughout the 1990's and into the early 2000's branded t-shirts by designers such as Tommy Hilfiger and Ralph Lauren sky-rocketed in popularity. Recently however there has been a move away from the conformity of these styles with consumers seeking a sense of individuality with independent artists and designers creating usual bespoke prints. Slogan tees are back as well with designers such as House of Holland – "Buzz Kill", Blackscore – "Tom ford is my homeboy" and Markus Lupfur- "You are my sunshine" creating cute catchphrases for their t-shirt collections.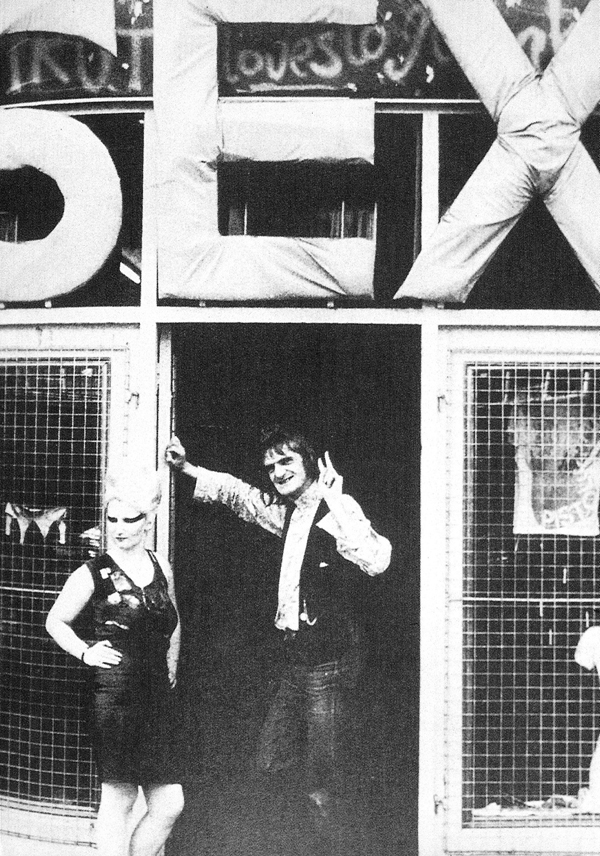 Vivienne Westwood's SEX in the 1970's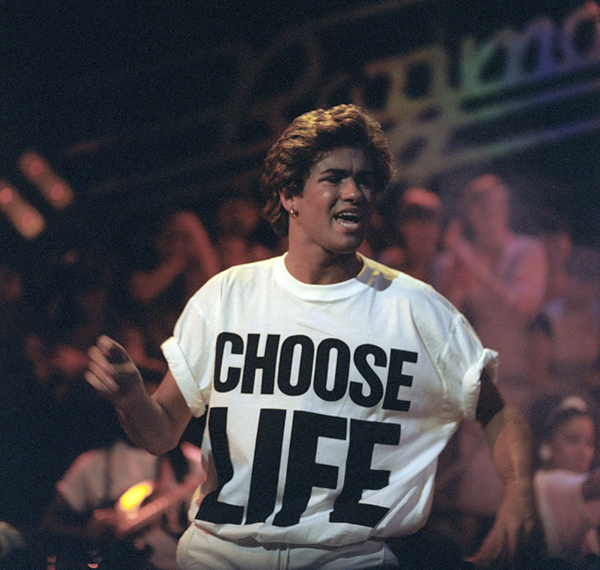 George Michael in his Wham! days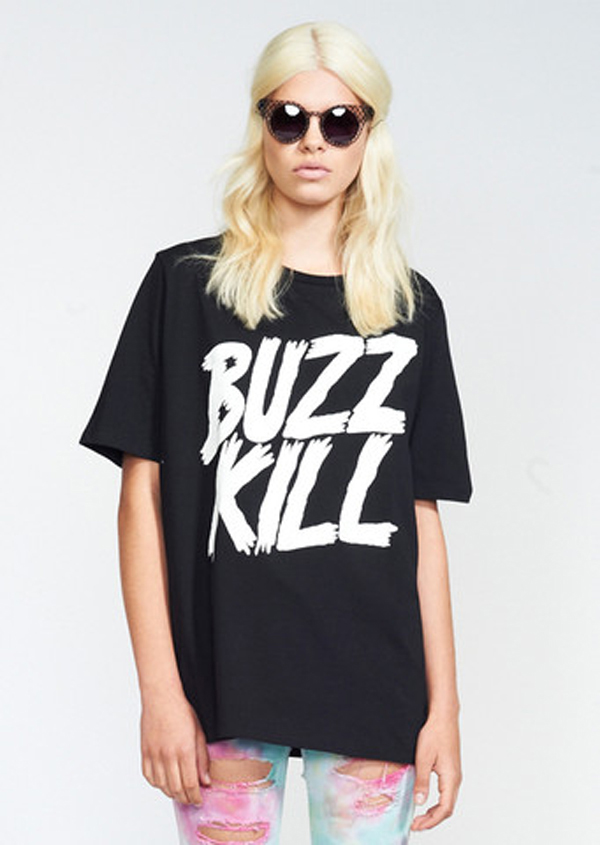 Henry Holland "Buzz Kill" T-Shirt (available to buy at houseofholland.com)