90s Summer Pop Culture Inspiration
Take a look at any Instagram influencer or fashion brand's mood board and you're likely to find endless amounts of 90s pop culture icons, whether it be a grunge-inspired Nirvana flannel situation or a strong sports style inspired Britpop bands such as Oasis and Blur. With trends like tie-dye and DIY cut off shorts making heavy appearances, it's no wonder that these throwback looks have become the ultimate Summer staple.
The Resurgence Of 90s Trends
Since late 2013, aspects of 90s culture have filtered their way back into the mainstream. Gone were the low rise jeans of the early 2000s, the bravest trendsetters were digging out their mom jeans, some being worn for the second time around. Accessories such as bucket hats and tattoo chokers came back in full force and people began stomping around in old-school Converse and Doc Martens again. Fast forward to 2018 and it's become quite obvious that the nineties is here to stay. Check out some 90s summer pop culture fashion inspiration below!
Our 5 Favourite Understated 90s TV Style Pop Culture Icons
Ally McBeal, Ally McBeal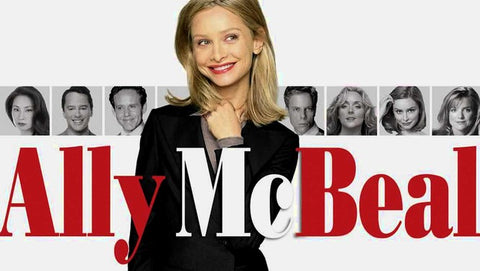 There's no doubt that Ally McBeal had the workwear wardrobe of our dreams. In clean 90s shapes in simple block colours, it was both aspirational and totally wearable, with accessories and shoes to truly make it pop.
Xander, Buffy The Vampire Slayer
When you think of Buffy, sometimes Xander gets left in the shadow of Angel and Spike (do vampires have shadows or do they just not have reflections?), but one of our favourite members of the Scooby Gang has some truly great normcore looks.
Chandler Bing, Friends
Chandler's casual clothing was always something to be desired, though we just didn't know it at the time. From plain tees layered under shirts, plaid patterns to single block colour jumpers: this dude also had the normcore look down.
Miranda, Sex And The City
If you were to ask anyone about their favourite Sex And The City character, 9 times out of 10 they'd say, Samantha. However, Miranda had some fab 90s dresses as well as great tailored pieces, and always accessorised exactly right.
The Banks', The Fresh Prince
Although Will was undoubtedly the king of this show, The Banks' had some pretty suave style themselves. From Carlton's chino shorts to Ashley's entire teenage look, this wealthy Bel Air family certainly had some cash to splash on their wardrobes.
How To Wear The Looks
Funky Fresh
Bright colours were signature in the 80s through to the 90s, with bold citrus colours and gaudy patterns making many appearances. Think old school bowling alleys and leisure centre decor and you're pretty much there, inspired by Saved By The Bell and The Fresh Prince.
Britpop
Because maybe, sportswear is gonna be the one that saves me. And after all, there's no need for a football. Get the 90s Britpop look with vintage brands such as Fila, Adidas, Nike and more.
Smart Casual
Inspired by Carlton Banks, Ally McBeal, and Miranda: these 90s summer clothing looks are both versatile and stylish. Think sharp tailoring in comfy fabrics. Men need to invest in some vintage chinos and branded shirts, with the ladies opting for co-ord suits with a casual top and dresses.
Normcore
Here's one for the Chandler Bings. Think solid block colours in natural and nude tones, no obvious patterns or branding, with loose fitting shapes and styles. It's effortless, inoffensive and timeless.
Guys, if you're feeling adventurous throw on a simple Hawaiian shirt for the ultimate dad look, and don't forget those sandals! Check out our Guide to Hawaiian Shirts for some classic 90s pop culture inspiration.
Although every high street chain imaginable has hopped onto the 90s resurgence, there's nothing better than shopping the originals from your favourite vintage stores. Take a look below and peep some fabulous 'fits that you can easily recreate yourself using bits from Beyond Retro and the contents of your wardrobe.