A Guide to 1960s Vintage Dresses
Learn all about the era that brought us the iconic mini dress, Twiggy and more, and how to refresh a the swinging 60s look for today. 
Dresses through past decades have inspired us and empowered us. Yet we can still wear them in a modern way and mix the styles of the past with newer items to keep their magic alive. If history has taught us anything it's that fashion is a never ending cycle. So lets delve into the next era, the 60s, and learn about the decade with change like no other. 
Bored with dressing like their parents and with more money in their pockets than ever before due to a booming economy, a 'Youthquake' came as no surprise.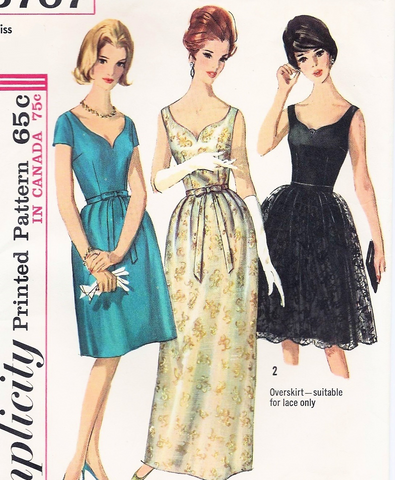 Dress Styles of the 1960s

- Up came the hems of mini (and micro mini!) skirts in a wave of shock and awe. Bright pop coloured fabrics burnt the eyes of all that spied them.

- Op and Pop art from artists like Bridget Riley and Andy Warhol influenced dress prints with their mindbending properties.
- Huge political and social advances in civil rights (with Angela Davis leading the black cause) space travel, drugs and youth economics created a decade of massive change which directly affected fashion as the 60s wore on.

- The Pop art minidresses of Mary Quant and the interstellar shapes of Courreges and Pierre Cardin morphed into Barbara Hulaniki's floaty psychedelics of Biba towards the end of the decade.
- Cheaper technologies in manmade fabrics like nylon and polyester guaranteed a riot of acid non fade colours.

- The popularisation of sheath style evening cocktail dresses kept silhouettes both tight, curvy and waisted and full to suit all shapes.
Dress icons of the 60s

Brigitte Bardot
Whether walking in the rain, cleaning the sink or modelling a Harley, this groovy French actress/singer was the iconic embodiment of 60's playfulness. Check out her amazing vocal talents on Contact and Harley Davidson. She wore her dresses as short as her hair was long. Unabashed, unapologetic and oozing with sex appeal.
Twiggy
Queen of the mods, little Lesley Lawson, AKA Twiggy because of her wiry frame, typified the new youth explosion of colour and shapes. For designers of the time, her slim frame and innocent youth were the perfect features on which hang their mind blowing acid creations.She even had her own fashion and beauty
lines
! A true icon.
Aretha Franklin
Not only had Aretha cemented herself as the Goddess of Sixties soul. She also typified the youthful energy and colour of the era in the wonderful
dresses
she chose, ruling wardrobes as well record sales. A perfect heroine for a disenfranchised black youth of the day. 
Audrey Hepburn
Hepburn's appearance in
Breakfast At Tiffany's
highlighted some of the finest formal
shapes
of the 60s. Her long sleek fitted iconic evening dress was probably the most famous of the era.
How to wear 60s dresses today
- Hunt out our short 60s cuties and wear them over fishnets for a great modern take.
- Pull out those DM's and 60s baby doll nighties for summer days like Courtney Love. Too feminine? Add some studs to tone it down.
- Look to modern Madmen pinup Joan Holloway for ideal ways to wear those red hot 60s cocktail creations. Mess it up with a massive pair of black motorcycle boots! Or add some comfy femme with a simple pair of ballerina flats for a night on the town.
Want to learn more about iconic vintage dresses? Check out Our Guide to 60s dresses and Our Guide to 50s dresses here!