'Suns out bums out' was certainly not the case in the 1920's, but there was no shortage of wonderful beach attire. For those fancying a dip in the ocean it wasn't all plain sailing (ahem) women were arrested for showing too much skin and men too for baring their chests.  
Here are a few snippets of 1920s men's and women's' swimwear trivia for you:
- In 1907, Australian swimmer Annette Kellerman was arrested for indecent exposure because her swimsuit showed her arms, legs and neck.
- Annette Kellerman marketed a line of her own bathing suits which were considered the most offensive style of the 1920s.
- In 1910 bathing suits began to fit the contours of the female body. The yards of fabric used in Victorian bathing suits and bloomers were reduced to show a little more of the figure
- By 1920s swimsuits were reduced to one garment with a long top that covered the shorts but many often wore matching stockings.
- In the mid 1920's Vogue was telling readers that 'the newest thing for the sea is a jersey bathing suit as near as a maillot as the unwritten law with permit' - Well I say!
- The first modern 'Miss America' was held in 1921, judging women on their overall body beauty. It ended in a few squabbles among the male judges.
- Men's swimwear followed suit and eventually moved away from knitted fabrics, though many remained in a full body suit.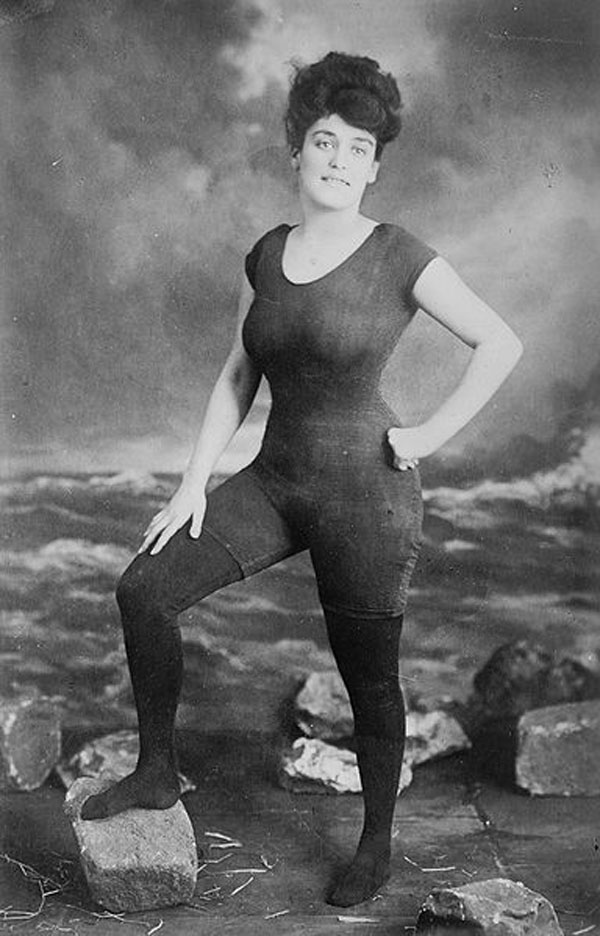 Annette Kellerman